Understanding the times
Understanding the times
An intellectual and cultural divide
As the Church contemplates what the future might hold, it is (as the paper from Russell Moffat highlights) essential to undertake an honest and realistic assessment of where we are, and how the message of the Gospel might be more effectively communicated today. To continue the 'war' metaphor, a military commander will seek to understand not only the nature of the conflict/ challenge but also the terrain on which contending sides meet. If the engagement is intellectual/philosophical/theological in nature - Christianity vs 'isms' as set out in the paper - the terrain is cultural and societal.
The stated future focus, rightly, for GTN is on young people and the question is how to bridge the gap between Christian faith and the world that 10- to 30-year olds inhabit. Young people are not apathetic – their concerns are real, wide and laudable (climate change, social justice, equality, and fairness). Nor are they amoral – reports are clear that today's teenagers value personal fidelity, honesty, and integrity as much as any previous generation.
Two recent books (among many) provide further background to the discussion: -
As alluded to by Russell, Dominion (The making of the Western mind) by Tom Holland (2019) explores the thesis that Western culture arose because of its unique setting within a Christian worldview. The life, teaching, sacrificial death and resurrection of Christ provided for centuries the bedrock of our way of thinking and living, and of the establishment of just and fair societies. Holland states that we are in the process of unmooring ourselves from this anchorage, and we do so at our peril. After evangelicalism (The path to a new Christianity) by David P Gushee (2020) (a leading authority on Christian ethics in the USA) laments the state of Evangelical Christianity in the USA especially within the White church. The perils of the symbiotic relationship between the largest Christian 'denomination' and the Republican party are laid bare. Professor Gushee's analysis of Christianity and its future is wider, however, than a critique of the religious Right. As a senior professor on campus, he is exposed constantly to young adults and sought to gauge their concepts of, and interaction with, the Christian church. The issues, he states, are principally cultural and societal and constantly changing.
These works illuminate the unprecedented challenges that face the Church and present a conundrum – how do we secure (re-)affirmation of the Gospel with its message of truth and love as a basis for a just society, exercise a Christian prophetic (forth-telling) voice in the issues that face the world, but at the same time recognise that the future doesn't look like the past.
The 'terrain'
In what way can we pursue 'honesty and realism', not launch another (over)optimistic 'decade' initiative, and yet carry forward under God's direction the task of bearing witness to the eternal truths of the Christian Gospel. Uncomfortably, we have to recognise that there has been an historic, seismic shift in key societal norms and accepted mores that the Church has largely not responded to or accommodated – possibly correctly on theological and moral grounds, possibly because of institutional inertia, possibly in missional error - but consequences follow from the position taken. What are the characteristics of culture and society today that have changed since the heyday of the church in the post war period 1950-70?
Altered landscape of societal norms: To switch metaphors, in the 1950-70s societal norms reflected the contemporary teaching of the Church and the 'gap' between society at large and the Christian community was bridgeable (the Gospel message could be shared) with traditional approaches (in-church services, revival meetings etc). Arguably, in 2021, the gap takes on the dimensions of the Grand Canyon, one side may not be able to hear the other, indeed they may not be talking the same language. Appendix 1 illustrates the virtually complete disconnect between young adults and the established church in England; other mainline denominations do not fare much better.
The focus of GTN is to bring Christianity, its teachings and claims, to the attention of all but especially young people. It follows, therefore, that the majority of the intended audience (16 to 30-year olds) has no church connection, and it is likely their parents had none either. On average, a member of this audience is single or cohabiting, 50% will have children, and for the most part are 4-8 years from getting married, some may never 'tie-the-knot' (Appendix 1). This landscape presents a considerable challenge to the traditional church view on these matters. As Gushee bluntly puts it does the Church really expect young healthy adults to be chaste for the 16-20 years until they marry. As a leading Christian ethicist, he addresses many of the issues facing the Church from a theological and moral point of view. With regard to relationships, he coins the term 'covenant realism' to describe a potential view that takes into consideration the new societal norms. What reception this concept has in the Church is yet to be seen – is it wrong for the Church to even consider a broader view of relationships?
What is clear is that the drivers that led to the shift are now embedded, and the change in the socio-cultural landscape is permanent.
Information age: We are now on the second 'internet generation'. With access to a global library of information, young people are increasingly detaching themselves from hierarchical teaching by authority figures. Ideas are drawn from multiple sources and peer-to-peer exchange for 10 to 30-year olds is the basis for opinion-forming and the development of a perspective on life. This 'genie' isn't going back in the bottle either.
There have been a number of surveys as to reasons behind the disengagement of young people from Christianity/ Church. One example is appended (Appendix 2). GTN could repeat this exercise for Scotland but it likely from that the answers may be roughly the same as this 5-year study from the Barna Group, although emphases will differ given the cultural differences with the USA. Also, these are the views of those who attend church or have left; the views of young Scots in general are likely to be significantly more negative.
A note on cognitive dissonance
Cognitive dissonance refers to a situation involving conflicting attitudes, beliefs or behaviours. This produces a feeling of mental discomfort leading to an alteration in one of the attitudes, beliefs or behaviours to reduce the discomfort and restore balance
Psychology (and common sense) tells us that healthy humans cannot simultaneously hold two competing belief systems regarding moral/ethical issues. For the last two decades especially, from the earliest days at school and throughout the working environment, there has been education and training in equality and diversity (in most large organisations it is mandatory). This generates a set of beliefs and behaviours that in large part align with traditional Christian positions. However, there are significant points of dissonance as described above (and pertaining to other well-rehearsed issues). These have to resolved on an individual basis which involves choices/ alterations, one of which is, knowing the potential for dissonance, not to enter into a situation where this might arise.
Building a response
GTN cannot address all the challenges identified in Appendix 2. It has the potential, however, to build canyon-spanning bridges and offer situations where a common language can be formulated. Once the barrier that accepting the findings of science negates belief in God has been dismantled, the way is open to develop themes for fruitful and healthy discussion and debate on a range of topics of interest to young people.
A number of GTN initiatives offer promising avenues to better engagement: -
Exploring TGQ: Development of The God Question material for a range of ages from the animation version through the ITGQ modules to the full broadcast/ study versions. The latest 'bite-size' extracts with key questions fits well with the present media paradigm. We have not as yet achieved the objective of seeing a large-scale younger audience take this up. This may come with the newer material but arguably must be driven by peer networking (not the older generation) and in this regard recruitment of a young people's advisory board is critical.

Exploring further: Creation of opportunities to explore consciousness and identity (Who am I), spirituality (Is there a higher being) and engagement with faith (What are the benefits of belief) can be introduced as a life-enhancing exercise. A bridge-building opportunity is the exploration of the nature and origins of spirituality as exemplified by the evening event with Dr Peter Bowes. The depth of discussion may be challenging in places but this is a topic that can be handled at a number of levels. The mental health of young people is front and centre at the moment and spiritual health is an essential part of that. It should not be difficult to develop this bridge but this cannot be principally by didactic teaching, rather older experts can be invited to say their piece.

Personal perspectives and experiences communicated through social media. The Facebook initiative 'As I see it' offers a route to a much wider discussions which again can be delivered in a variety of styles. 'It's a Fair Question' is an excellent initiative that could be broadened.

The ecumenical approach by GTN is real and to be applauded. It is predictable that for most young adults today, doctrinal distinctions are hard to fathom and a source of confusing messages given the existential issues that the Church faces.

The big issue.
Assuming a successful outcome for the GTN-mediated engagement with young people results in a degree of interest in what Christianity and the Church has to offer, what next? How does the enquirer proceed further along the bridge to faith and connection to a worshipping Christian community? Is it envisaged that acceptance requires compliance to a different 'terrain' – how realistic is this?
GTN has further plans with regard to generating material relating to core features of Christianity – Resurrection and Incarnation, Suffering. When these are at a level of readiness that equals the TGQ material, can they be deployed in such a way as to create a 'meeting ground'. With a range of formats accessible to 10 to 30-year olds, as well of course as older adults, can an expanded on-line community be created where the Christian faith can be explored more fully in neutral territory. This community can be, as GTN already is, multi-faceted – web site forums, Facebook events, a YouTube broadcast channel. In this way can we promulgate the core Christian message without the baggage of institutional Christianity.
Can GTN Live-on-line become for many who would be hesitant to attend a physical church service a stepping stone / bridge to engagement with a worshipping community?
Appendix 1
Government statistics office – marriage and childbirth:
A few statistics illustrate what we all know. In 1970, the average age at marriage was 22-24 years, in 2020 it was 32-34 years. In 1950 -70 puberty was 14/15 years, in 2020 it is 12/13 years – the interval between female puberty and marriage has increased from about 9 years to 20 years, the interval from reaching adulthood to marriage has gone from 4-6 years to 14-16 years. In 1970, 5% of children were born to unmarried mothers, in 2020 this figure was about 50%. More than 95% of 20-year olds in 2020 reported being sexually active, and the majority had other sexual partners, prior to marriage.
British Social Attitudes Survey (2019)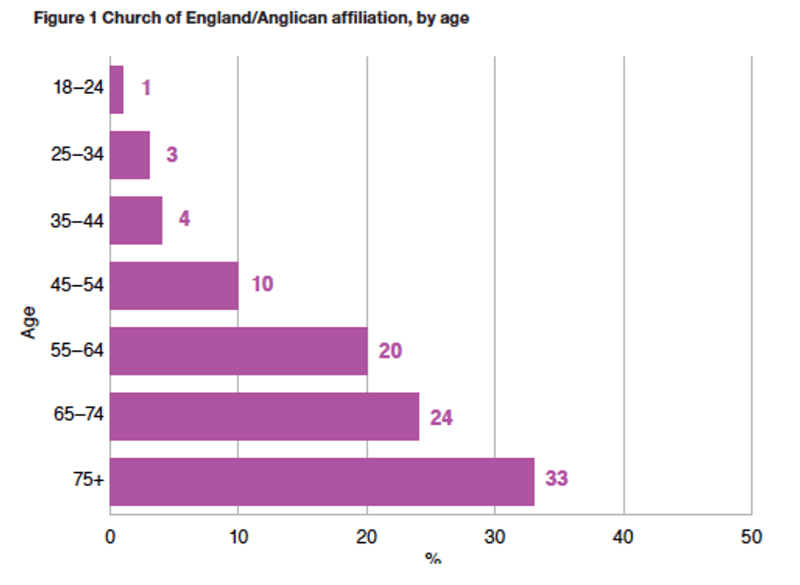 Appendix 2
(reprinted from Biologos.org)
Six Reasons Young Christians Leave Church
By The Barna Group
on June 05, 2017
• Education
• Views & Attitudes
Many parents and church leaders wonder how to most effectively cultivate durable faith in the lives of young people. A five-year project headed by the Barna Group explores the opportunities and challenges of faith development among teens and young adults within a rapidly shifting culture. The findings of the research are included in a new book titled You Lost Me: Why Young Christians are Leaving Church and Rethinking Church.
The research project was comprised of eight national studies, including interviews with teenagers, young adults, parents, youth pastors, and senior pastors. The study of young adults focused on those who were regular churchgoers Christian church during their teen years and explored their reasons for disconnection from church life after age 15.
No single reason dominated the break-up between church and young adults. Instead, a variety of reasons emerged. Overall, the research uncovered six significant themes why nearly three out of every five young Christians (59%) disconnect either permanently or for an extended period of time from church life after age 15.
Reason #1 – Churches seem overprotective.
A few of the defining characteristics of today's teens and young adults are their unprecedented access to ideas and worldviews as well as their prodigious consumption of popular culture. As Christians, they express the desire for their faith in Christ to connect to the world they live in. However, much of their experience of Christianity feels stifling, fear-based and risk-averse. One-quarter of 18- to 29-year-olds said "Christians demonize everything outside of the church" (23% indicated this "completely" or "mostly" describes their experience). Other perceptions in this category include "church ignoring the problems of the real world" (22%) and "my church is too concerned that movies, music, and video games are harmful" (18%).
Reason #2 – Teens' and twentysomethings' experience of Christianity is shallow.
A second reason that young people depart church as young adults is that something is lacking in their experience of church. One-third said "church is boring" (31%). One-quarter of these young adults said that "faith is not relevant to my career or interests" (24%) or that "the Bible is not taught clearly or often enough" (23%). Sadly, one-fifth of these young adults who attended a church as a teenager said that "God seems missing from my experience of church" (20%).
Reason #3 – Churches come across as antagonistic to science.
One of the reasons young adults feel disconnected from church or from faith is the tension they feel between Christianity and science. The most common of the perceptions in this arena is "Christians are too confident they know all the answers" (35%). Three out of ten young adults with a Christian background feel that "churches are out of step with the scientific world we live in" (29%). Another one-quarter embrace the perception that "Christianity is anti-science" (25%). And nearly the same proportion (23%) said they have "been turned off by the creation-versus-evolution debate." Furthermore, the research shows that many science-minded young Christians are struggling to find ways of staying faithful to their beliefs and to their professional calling in science-related industries.
Reason #4 – Young Christians' church experiences related to sexuality are often simplistic, judgmental.
With unfettered access to digital pornography and immersed in a culture that values hyper-sexuality over wholeness, teen and twentysomething Christians are struggling with how to live meaningful lives in terms of sex and sexuality. One of the significant tensions for many young believers is how to live up to the church's expectations of chastity and sexual purity in this culture, especially as the age of first marriage is now commonly delayed to the late twenties. Research indicates that most young Christians are as sexually active as their non-Christian peers, even though they are more conservative in their attitudes about sexuality. One-sixth of young Christians (17%) said they "have made mistakes and feel judged in church because of them." The issue of sexuality is particularly salient among 18- to 29-year-old Catholics, among whom two out of five (40%) said the church's "teachings on sexuality and birth control are out of date."
Reason #5 – They wrestle with the exclusive nature of Christianity.
Younger Americans have been shaped by a culture that esteems open-mindedness, tolerance and acceptance. Today's youth and young adults also are the most eclectic generation in American history in terms of race, ethnicity, sexuality, religion, technological tools and sources of authority. Most young adults want to find areas of common ground with each other, sometimes even if that means glossing over real differences. Three out of ten young Christians (29%) said "churches are afraid of the beliefs of other faiths" and an identical proportion felt they are "forced to choose between my faith and my friends." One-fifth of young adults with a Christian background said "church is like a country club, only for insiders" (22%).
Reason #6 – The church feels unfriendly to those who doubt.
Young adults with Christian experience say the church is not a place that allows them to express doubts. They do not feel safe admitting that sometimes Christianity does not make sense. In addition, many feel that the church's response to doubt is trivial. Some of the perceptions in this regard include not being able "to ask my most pressing life questions in church" (36%) and having "significant intellectual doubts about my faith" (23%). In a related theme of how churches struggle to help young adults who feel marginalized, about one out of every six young adults with a Christian background said their faith "does not help with depression or other emotional problems" they experience (18%).
Turning Toward Connection
David Kinnaman, who is the coauthor of the book unChristian, explained that "the problem of young adults dropping out of church life is particularly urgent because most churches work best for 'traditional' young adults—those whose life journeys and life questions are normal and conventional. But most young adults no longer follow the typical path of leaving home, getting an education, finding a job, getting married and having kids—all before the age of 30. These life events are being delayed, reordered, and sometimes pushed completely off the radar among today's young adults.
"Consequently, churches are not prepared to handle the 'new normal.' Instead, church leaders are most comfortable working with young, married adults, especially those with children. However, the world for young adults is changing in significant ways, such as their remarkable access to the world and worldviews via technology, their alienation from various institutions, and their skepticism toward external sources of authority, including Christianity and the Bible."
The research points to two opposite, but equally dangerous responses by faith leaders and parents: either catering to or minimizing the concerns of the next generation. The study suggests some leaders ignore the concerns and issues of teens and twentysomethings because they feel that the disconnection will end when young adults are older and have their own children. Yet, this response misses the dramatic technological, social and spiritual changes that have occurred over the last 25 years and ignores the significant present-day challenges these young adults are facing.
Other churches seem to be taking the opposite corrective action by using all means possible to make their congregation appeal to teens and young adults. However, putting the focus squarely on youth and young adults causes the church to exclude older believers and "builds the church on the preferences of young people and not on the pursuit of God," Kinnaman said.
Between these extremes, the just-released book You Lost Me points to ways in which the various concerns being raised by young Christians (including church dropouts) could lead to revitalized ministry and deeper connections in families. Kinnaman observed that many churches approach generations in a hierarchical, top-down manner, rather than deploying a true team of believers of all ages. "Cultivating intergenerational relationships is one of the most important ways in which effective faith communities are developing flourishing faith in both young and old. In many churches, this means across the entire lifespan, working together to fulfill God's purposes."
by
Prof Chris Packard